A View of Grief demo
Released in 2005
Produced by Dinos Vallianatos
Recorded, mixed & mastered by Dinos Vallianatos at MeBedroom Studio
Artwork by Nick Palaiologos for 0KS Productions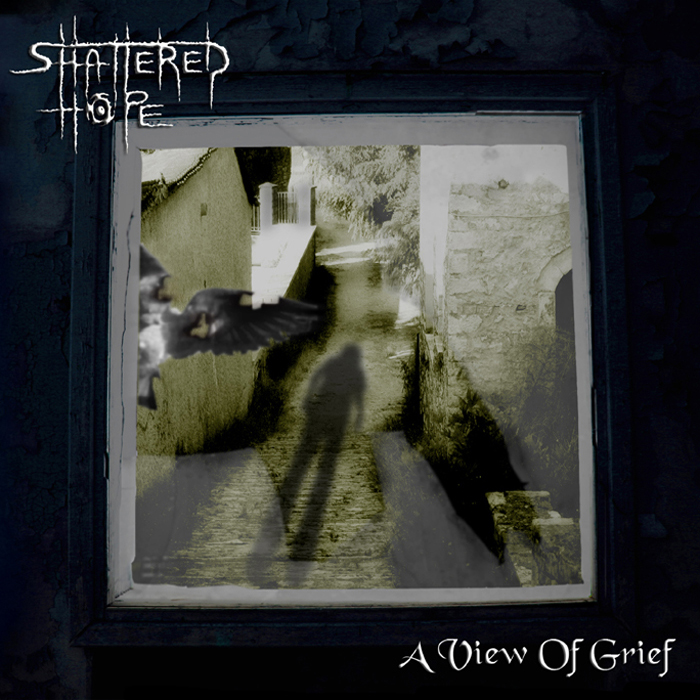 Vital Lie
Your world is built by lies
Your reality's created by liars
You set a trap in my mind
I cry to you...
...to get in life!
Your blind mind!
Your eyeless soul!
Running for the night
Dead at all!
I was stuck for a while
In this state of mind
I create my own lie
My true,VITAL LIE!
Is this Hell?
Is this Life?
Is this Heaven
without light?
Can you see?
Can feel?
Take my hand
Set me FREE!!
Consolation I find in lies
The emptiness of myself i see
My mind trapped in time
Forever in this VITAL LIE!!
Wane
I wonder if, you could ever define
Your indescribable laxity
Changing cold, strange lava
Become misleading
LIES!!!
Naked I stand, watching these
Unknown, incubating thoughts
We reveal and grow
our fake impressions
You grieve and you taste
The emptiness of joy!!
Vacantly you laugh!!
Skin-deep you are!!
Somehow you wanted that!!
Joyful the face of tranquillity
Prediction in eternity
The odour of mind
Seduces silence
Feelings in a wound
Dreams in multiple ways
Fuck the deadlock
And move over!!
Sinking from the visions of my heart
I see dead clouds surrounding me!!
The voices we loved!!
The promises we broke!!
The changes you thought!!
Perfection,you're in LOVE!!
My Perfect Illusion
I awake in my fears
My dreams haunt me
I see your face in my tears
With dreams forever lost
My heart beats no more
As night is falling
Wretched thoughts have been born
And my worries are growing!!
Spirits obey me
Lead me to labyrinths
With happiness broken
And sadness has grown in me
My veins are frozen
You didn't look in me
My life is worthless
And my tries hopeless
Again I dream you
Unable to hear
I touch you, I feel you
So weak to live!!
I live in despair
So I have lost my faith
My shadow disappears
Life dressed in pain
I endure for everything
And I live in vain
Now I lead myself to madness
Forever! Eternally!
I hear my soul crying
In hopelessness confined
I live in fear
I live for your illusion
The only thing can heal me
The only lie I believe
Curse my soul and lead me to your way!
Until I awake again to face the truth!
Take what has left of myself...!!
Hollow Promises
Voices from the past
Blank now, without meaning
They come to make me
Remember these memories!
I once thought I had something
A promise of living a life
Without pain and sorrow
But now, only a remembrance is left!!
But no
Please no more, tears, sorrow, pain and lies
Hollow promises and growing despair
PLEASE NO MORE!!!
Time passes by and nothing changes
As I sink myself in sadness
Trying to reconcile
With something I can't bear
With something I fear
Now I lost it all
A word of promise
Precious for me is gone
I shouldn't fear anything else
As nothing is remained for me
As everything passes by
As I lost my courage
As I can't trust nothing!!
My Withering Soul
I'm so tired now
Walking this unending path
All that's remained here
Is nothing but sorrow and tears
All that I hear
Is my weeping all these years
Remnants of myself in fear
And darkness never clears
Living all my life in lies
Believing in untrue hopes
Wishing for something
Weeping all alone
Promises forgotten
Thoughts always unspoken
Wishes still unborn
And dreams fade away
I can't find an answer
I can't see the way
For my poor soul
To set it free forever!!
As I farewell life now
I know everything is lost for me
Only loneliness I met
In silence I was left
I have lost myself now
In this painful season
As I'm looking to the snow
I can't find a reason
To understand why
Screams in silence destroyed
I always need to cry
Only sorrow is allied
I lead my soul to this soulless Heaven!
I know that nothing can hurt me but my wishes!
Wishes and dreams of something that will never be the same!
After my soul has died there's nothing left for me!
Sentenced to live in sorrow and counting my tears!